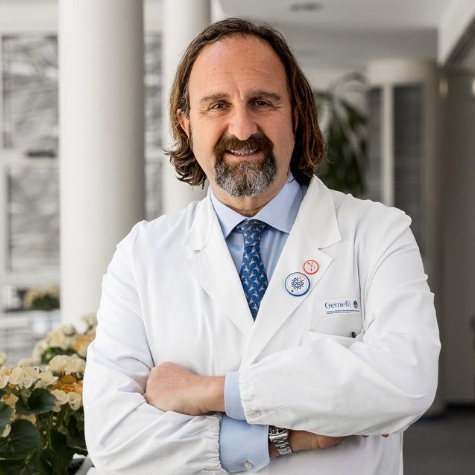 Dean: Prof. Antonio Gasbarrini
"Our aim is to train doctors and health professionals of excellence, capable of dealing with all types of patients and health-related issues. On this path, our young men and women will have at their disposal the most modern teaching systems, the best technologies, educated and motivated lecturers, a Campus equipped with one of the best Hospitals in the world, and a network of solidarity initiatives that will allow them to experience that health is not only hyper-technology but also, and above all, it is taking care of basic human needs.
The professionals trained at Università Cattolica will not only be able to treat diseased organs, but will also have to take responsibility of the care of the person in front of them, with the awareness that little can the most modern and innovative therapies do if the person is not taken care of in their entirety, both physical and spiritual.
A spiritual totality in which, as Pope Francis states, the biological and spiritual, cultural and relational, project and environmental dimensions of the human being in the journey of life are harmonised".
The Faculty was established on the strong initiative of the founder of the University, Father Agostino Gemelli, and was founded in Rome according to the wishes of Pope Pius XI, who donated to the Giuseppe Toniolo Institute of Higher Studies the ownership of the land on which the first university buildings were erected, opened to students in 1961, and the connected Policlinico, operational since 1964.
Within the Faculty of Medicine and Surgery there are different types of Degree Programmes, with a diversified academic offer in the medical and healthcare field, offering different specialization paths. The main teaching site is Rome, at Università Cattolica, but there are several parallel sites in other Italian cities and regions.
This Faculty provides modern technical and scientific equipment, but above all it allows to benefit from the close connection with the Policlinico "A. Gemelli", a university hospital with more than 1500 places considering admissions and day hospital, able to provide tens of thousands of health services in the Emergency Room every year and more than 9 million total health services in general, including clinic servives: those who enroll at Università Cattolica have the unique opportunity not only to study medicine, but to 'live it'.
In addition to the more traditiona lectures - with professors/lecturers of recognised international scientific level - there are also internship activities, in-depth studies (conferences, seminars, ad hoc projects), computer and multimedia sessions, as well as specialist workshops.
History and future of Fondazione Policlinico Universitario Agostino Gemelli IRCCS